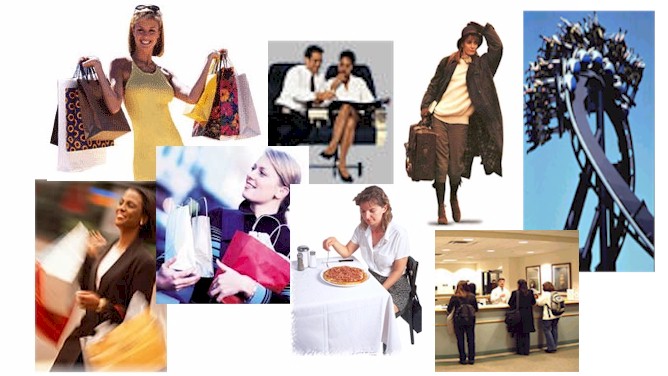 Anonymous Clienting
Do you know what your clients really think about your service? The fact is whatever business or enterprise you are involved in, be it hotels, airlines, stores, restaurants, amusement parks, or anything else, you need to know. This lies at the heart of maintaining your client base as well as increasing repeat business.
Anonymous clienting means we send in our personnel to use your service anonymously. Your employees - who regularly deal with clients - are then rated on a variety of criteria that you have previously decided on in consultation with us that demonstrate good practice for your business. Your employees, however, are only part of the overall service you provide. Psychonomics, therefore, examines the service in its totality from the way it is delivered by employees to what is actually delivered; with our perceptions mirroring those of your real clients. In effect, it is quality control at the sharp end.
Indeed, quality control is often applied to a process where something is made, and similarly standards of excellence may be applied to the process itself or the employees who contribute to the process. But applying any kind of quality control to client delivery or usage is often overlooked. Furthermore, for most organizations it is a known supervisor who conducts an assessment. This often produces an inaccurate evaluation due to bias on the part of the assessor or as a result of changed employee behavior. Overall, therefore, any in-house evaluation may not relate to how clients see your service. The only way to overcome the problem is to have the evaluation conducted by an external agency.
So what kind of things do Psychonomics look at? Well, amongst many other things, we might look at standards of cleanliness in service delivery. In an airline this would mean whether the seats are clean and whether drinks are delivered in a clean tumbler, with everything changed ready for the next passenger. In a restaurant chain this would mean looking at whether the silverware and crockery are clean and well presented along with the food. We would also look at what the waiter service is like - courteous and helpful, rather than discourteous, overbearing and unhelpful. Alternatively, in a store, we might look at whether the salesperson is well briefed on the product line and can answer questions that demonstrate appropriate training and knowledge about the product so that shoppers can make an informed choice. While this is of vital importance, of course, many major retail chains, selling everything from electronic items to domestic appliances and fashion accessories, regularly lose money every day simply because salespeople are ill-informed. And because it is frequently the case that lack of knowledge of this type leads to an inability to deal effectively with shoppers - as well as the use by the individual concerned of a variety of psychological defense mechanisms in face-to-face interactions - we also look to identify the surly employee who has no time for clients. Why are one or two poorly briefed or surly salespeople so important? Because if you multiply this effect across, say, forty or fifty outlets the loss of revenue mounts up very quickly. And as far as repeat business is concerned the loss is incalculable.
But let's place things in context a little more in terms of the hindrances we often find. Besides an extensive list of scored items that are generated on visiting a client's place of service, other methods at our disposal often produce rich data. Here is an extract from a report by one of our personnel of a particularly bad case involving a major hotel chain. It looks at the guest's experience on arrival, entering the allocated room, with the restaurant service, and then at departure.
Anonymous Client Narrative Report of Personal Experiences
Client: XXX Hotels
Location: USA, NYC
Date: 03.03.03
Arrival: I arrived at the hotel about 5.00pm local. The regular glass doors of the entrance appeared to be locked, and I had to manhandle my luggage through the revolving doors, inching my way. No desk staff appeared to be on duty, or bellhops. There was an open door at the side of the reception desk and I could hear talking and laughing and the smell of cigarette smoke. On ringing the bell, a young, smartly-dressed woman appeared wearing the corporate logo on her jacket. She asked me the appropriate details for registering and, once I had signed in, gave me a key card to a room on the 22nd floor. I asked for help with my luggage and was informed that the bellhops were all off duty. I then said that I was very tired and had been unwell recently, and I really couldn't drag my luggage any more. The receptionist replied that I could take a luggage cart myself if I wished - from where they were parked in the lobby behind some large pot plants near the reception area - and that she really had no other suggestions to make. I was about to protest when one of the kitchen staff walked behind her and whispered something in her ear. She slapped him on the back, he ran off, and she followed.
Accommodation: After taking the elevator up to the 22nd floor, while pushing the cart with my luggage, I found my room. On entering it appeared standard for the class of hotel catering for the business traveler. A mini-bar was situated in one of the corners. The bathroom appliances all worked, and there were two small towels neatly folded by the sink. However there was no large towel. There was one bar of sealed complementary soap and no spare toilet paper other than what was on the roll. One light bulb was burned out on the mirror surround. The actual decoration and cleanliness in the bathroom was acceptable but not great. For example, tiling was clean but the pointing to the tiling was badly completed by the contractor - it was uneven and flaking in places and some of the tiles were positioned poorly too, giving an unprofessional appearance. The TV was functional but only provided a selection of the local cable channels. A card by the TV stated that all movie channels would be billed to the room. Closet space was adequate and there were a sufficient number of hangers (6), although as I was on a 'business trip' I did not need many. I wanted to sleep, however, the bed looked rumpled and not well made; a complimentary chocolate mint was on the pillow. The bed itself was comfortable. However, I awoke several times during the night due to noise from the street below my window. Apparently, there was no double glazing. I could also hear the elevator in the hall outside my room going up and down. This noise subsided as the night wore on.
Restaurant: The medium sized dining room could seat around one hundred and fifty people. It was quiet, with perhaps a dozen diners scattered around. I was shown to a table by the side of the dining room. The waiter asked me if I would be dining alone. When I answered 'yes' he slapped a menu down and said he'd be back. The table I noticed was wobbling. Approximately nine minutes passed till the waiter reappeared. I pointed out the wobbling table and asked if I could be reseated. He said that wasn't possible but he'd have the table attended to. I then ordered a basic menu for a main course dinner consisting of chicken, rice, and mixed vegetables. The waiter took the order without smiling or saying anything and left. Sixteen minutes later I was still waiting for my meal. The waiter, who passed by my table several times, kept avoiding eye contact. Finally I went to one of the bars located nearby and asked if someone would check on my order. About five minutes later, the waiter appeared with my meal. He placed it in front of me and rapidly left. I called out after him to remember the table needed fixing. He waved the tray in the air as a sign of acknowledgement as he went. The chicken was lukewarm and spiced with something unidentifiable, but it was edible. The rice, however, was insufficiently cooked and over-salted as were the vegetables. At that point another waiter appeared with a jug and filled my glass with water without asking. I pointed out the wobbling table and in spite of his apparent lack of English he nodded and appeared to understand. The first waiter appeared and asked if I wanted anything for desert. I asked for fresh fruit. He said there was none, only pie. Politely, I said perhaps he could find me just an apple. At this he sighed and said if he went to the other dining room he might be able to find one but it was at the other side of the hotel. I said I'd wait, and meantime I'd have a cup of coffee. The waiter went away and briefly spoke to a waitress who was attending to another table. They glanced in my direction. This made me feel a little uncomfortable. Moments later the waitress appeared with a coffee pot and poured me a cup, she neither spoke nor smiled either. As she left the water waiter approached and with hand gestures asked me to lift the cup. He then bent down below the table, placing something under one of the feet. This steadied the table. I stayed in the dining room for about twenty-five minutes reading a report, making notes, and drinking coffee, which was replenished once by the waitress. As I was about to leave the waiter appeared with a plate of two apples and a banana. The banana was overripe and brown in places. I bit into the apple which was soft and mealy in texture. Pushing the fruit aside, I drank the remains of my coffee to take the taste away and then left the dining room. As I got to the door I heard the waiter say to the waitress how, after all that trouble, she didn't want the fruit after all.
Departure: I had stayed three nights and went early on the morning of my departure, at approximately 7.45am, to the reception. The receptionist on duty - the same one I had met when I arrived - looked harried. She was dealing with a medical conference party of about twenty five people and was unable to process their details. It appeared the hotel computer was suffering from a problem handling multiple credit card transactions. Two other hotel employees eventually came to her rescue and with a lot of shouting at the arriving group finally got everything under a semblance of control, although some of the group had shuffled off and were sitting around the lobby waiting, it seems, for vouchers. They were also complaining about the way they were being treated. When my turn came I asked for the bill. It was printed out. When I looked at it I found I had been billed for two large bottles of Scotch, three more room service requests than I had used, and twenty seven minutes of international phone calls to Australia. I queried the extra charges, and was told that I had used them and had to pay. Firmly but politely I stated that this was not the case, that the bill was incorrect, and that I would only pay for what I had in fact used. For most of the items this could also be easily verified, I pointed out, by any signed receipts. The receptionist began to argue. I held my ground and asked to see the manager. At this point, the receptionist stated that if it made me happy I should pay what I thought was correct. I paid by credit card, making sure to get the credit card receipt for the correct amount. I then left the hotel.
Clearly the above experiences point to major areas that need addressing in order to allow the hotel to function efficiently, as well as professionally, and keep customers coming back. And this was only one hotel in the chain. When we surveyed other hotels in the chain similar results were obtained.
As external consultants we come in fresh without any preconceptions about how the organization should operate in its area of endeavor. Senior management define what good business practice means with Psychonomics acting as a facilitator and advisor. Nevertheless, senior management often lose touch with what is happening at lower levels within their organization. They rely on their middle managers to keep everything running smoothly. And middle managers are often caught between the demands imposed from above and the need to maintain resource requirements from below, besides a variety of other organizational constraints on them. Barriers to effective business therefore exist at many levels. And even when lower level operational employees are doing the best they can they may still be unable to deliver the best service to clients because they have to deal with an organizational management that is like an elephant - very difficult to move. Through an effective anonymous clienting solution we work with all the necessary levels of management to reveal the real situation and what the problems actually are. Psychonomics will then advise on what further implementations can be undertaken to improve performance and realize organizational goals.