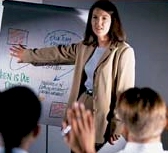 Training and Training Specification
Training Specification
Structured information gathering - a training needs analysis - is used so that we are able to detail the organization's goals and link these to a definition of the target job or jobs in question. Hence, training is then clearly specified and relates to what the job is, what is required, who does it, and the development of a protocol for evaluation. In doing this we look at the knowledge, skills and abilities required to do the job effectively, and the cognitive and interactional characteristics required to maximize an employee's ability to do the job - ie. how well an employee is likely to implement all the required competencies. Our approach also allows the matching of people, teams, and tasks to greatest effect.
With the structured approach we take, uppermost in the main thrust of our work is a determination of the organization's priorities and the level at which we need to specify training and intervene to promote them. Psychonomics, therefore, focusses on three levels of analysis. This helps us to pinpoint where, if it is actually required, a training program has to be instituted for maximum benefit:
a.

At the organisational level: Training may be part of the solution in terms of future strategy or nipping potential problems in the bud.

b.

At the occupational level: Where we highlight training deficiencies in groups or teams of employees, and where we attempt to ascertain where performance problems originate in relation to the job. (Task, knowledge or skill deficiencies, or prior inappropriate training, all lend themselves to analysis at this level. However, the problem may not be one of training or a skill lack, but instead a result of: environmental factors, such as poor channels of communication, role and task conflict, inadequate equipment, and work overload. Or, the result of. motivational or incentive factors, such as negative consequences for better performance, possible punishments and sanctions, low morale and discontent. The analysis we undertake helps to uncover the reality).

c.

At the individual level: Here we attempt to ascertain where the 'need' that affects individual employee's performance originates from, examining it from the perspective of the person side of the problem, and any behavioral and interpersonal deficiencies that need addressing.
Often, the training decided on as a result of our analysis will focus on a mixture of these levels. But, the key point about them is that they all relate to performance issues with the underlying notion that all parts of the organization - structure, people etc, - must function optimally, thus ensuring that training will be directed at the right part of the organization, as well as being correctly specified.
Finally, having conducted a comprehensive training needs analysis, and then implemented a training program, we evaluate to determine whether detailed training and business objectives have been reached.